August Blog: Volunteerism Need Increased

What is Day of Caring?
From building pathways at the local parks to sorting donations and transforming shelter spaces, collectively our community completes projects throughout the county. The goal is to lend a hand to the nonprofit professionals who improve lives daily across Sheboygan County.
What is the Impact?
The impact of volunteering during Day of Caring is unique to each nonprofit and each volunteer, but the warm feeling of connection and accomplishment is all the same. Nonprofits are left with new improvements and volunteers walk away from the experience with new ideas and a better understanding of the need that nonprofit fills year-round.
Though it is hard to track the number of 'feel-goods' that day brings, there are a few outputs that we do measure.
The last 3 years, Day of Caring:
Mobilized 1,576 Volunteers, amounting to 7,363 Hours;
Completed 111 Projects for 88 agencies;
More than 500 acts of kindness were completed, several virtual volunteer opportunities were filled, thousands of items were collected; and
48 grants were awarded for the projects, amounting to over $20,000 in project materials.
Day of Caring also provides an opportunity for nonprofits to develop long-term relationships with volunteers, who go on to fill ongoing volunteer opportunities at that organization. These ongoing volunteers who continue to give of their time extend the impact of Day of Caring beyond a single day.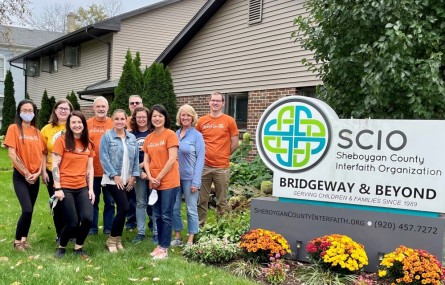 "Sheboygan County Interfaith Organization is grateful for United Way events like Day of Caring because it gives us an opportunity to connect with caring community and corporate partners in new ways. A great example is a group of Kohler employees that came to SCIO for a Day of Caring project. In addition to completing a variety of projects around the SCIO building, they learned about the mission and the important work of our organization, and offered to come back to help upgrade several bathrooms. There is no doubt that the Sheboygan community is special and the Day of Caring has created invaluable partnerships between nonprofits and employers!"
~Lisa Stephan, Executive Director for Sheboygan County Interfaith Organization (SCIO)
COVID-19 and Volunteerism
Prior to March of 2020, nonprofits relied on retired community members to fill their most vital, ongoing volunteer needs. And when our community turned inwards to keep loved ones healthy, many of these essential volunteers were now following 'safer at home' guidelines.
Nonprofits providing critical services to our community suddenly had to lean on staff even more to fill the volunteer gap and respond to the anticipated increase in need. Many of the retiree population didn't come back to ongoing volunteer positions like before; some don't plan to return at all.
2022 Day of Caring
Now, this Summer (2022) people are more comfortable with traveling outside the community and state again - leaving nonprofits shorthanded once more and making Day of Caring that much more important to our local nonprofits.
Day of Caring is more than one day of impact. It is a day for new beginnings. It marks the beginning of United Way's new campaign - and once again brings opportunities to individuals, groups and corporate teams to connect with nonprofits and their missions, making a lasting impact in our community. Day of Caring is your chance to connect with a nonprofit that serves our community in a way that speaks to you.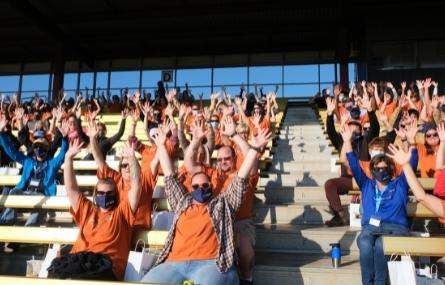 Next Steps
This year, consider signing up for a project during Day of Caring. Pick an agency, and while you are there, explore their mission. Ask what you can do to help move the needle towards the larger outcome and imagine yourself being a part of the solution.
Day of Caring is about setting Hope In Action. Join us in being Hope In Action.
Sign-Up Here